Do you have a Simplicity Legacy XL with the Front End Loader (FEL) attachment and would like some forks to use with it?
Most industrial forks are so heavy they take up a huge portion of your lift capacity with these small tractors.
Our tractors are only rated to 500 lb lift capacity, we don't need solid forks rated for thousands of pounds.
You could use bucket mounted clamp on forks but those extend so far out and add significantly more weight to the bucket so you lose capacity both from weight and distance from the tractor (leverage). You also lose visibility because you can't see the forks in front of the bucket. They could also bend your bucket.
Our fork attachments are engineered and hand fabricated here in WI using US sourced steel for high quality weldments.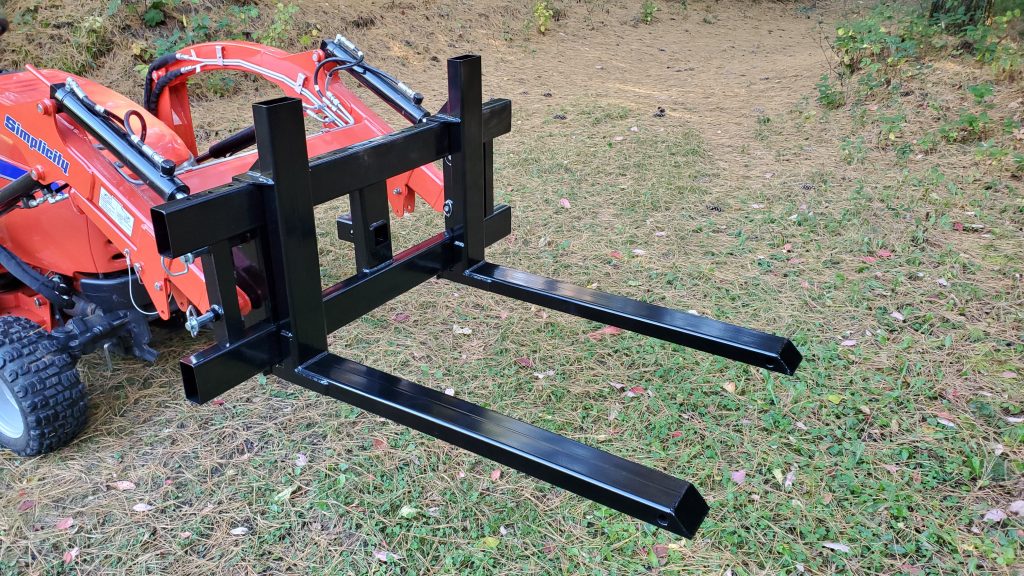 Features Include:
Low weight with hollow steel rectangular tubing. The entire fork assembly weighs only ~18 lbs more than the bucket.
Compact Design keeps the load close to the loader frame for more stability.
Maintains full load capacity of the tractor.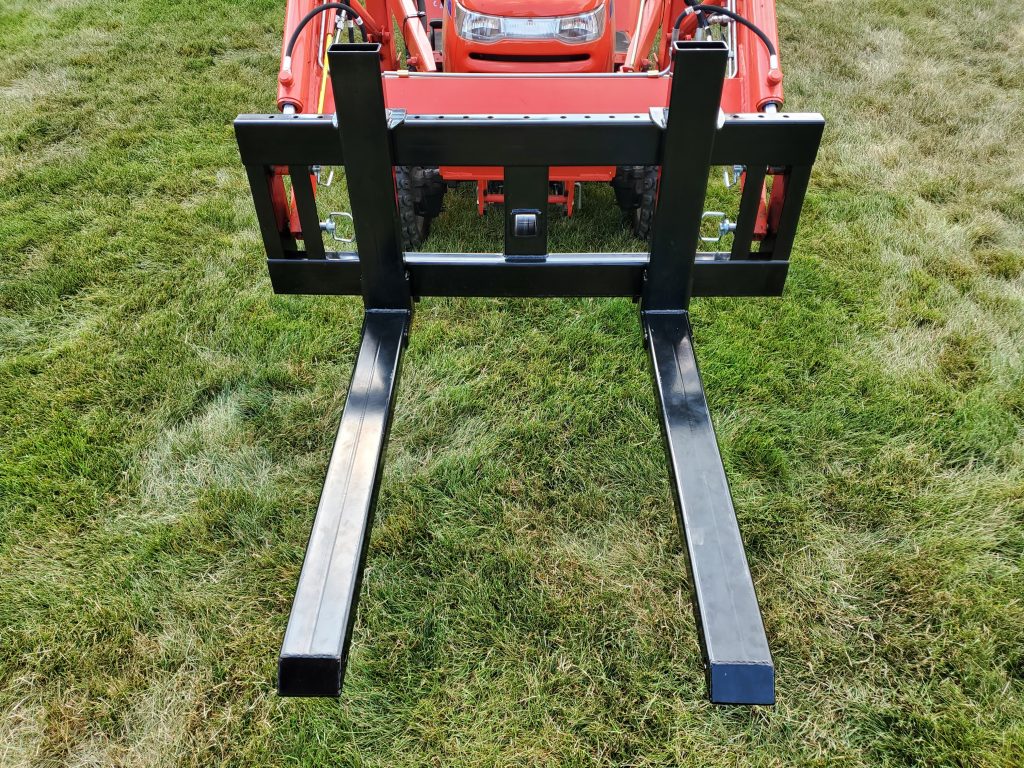 Open frame design allows you to see the forks easier.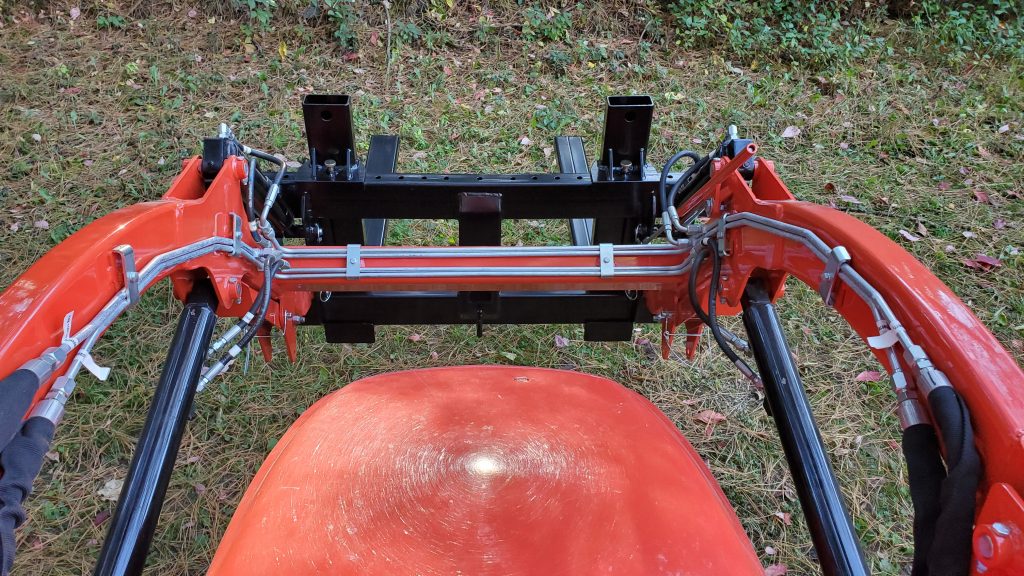 Spring Plungers can be pulled up to release the forks and slide them to different widths depending on what you are lifting.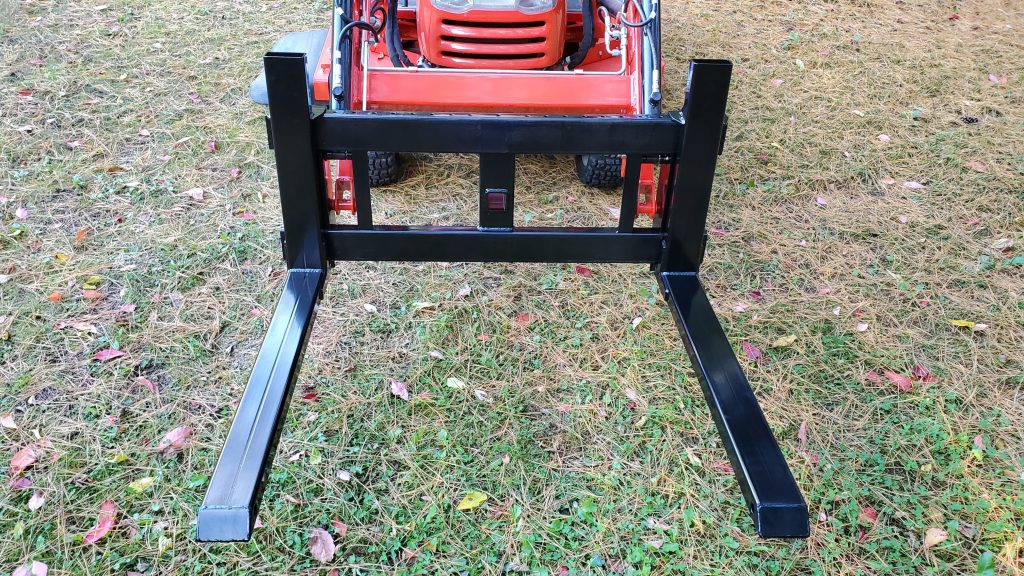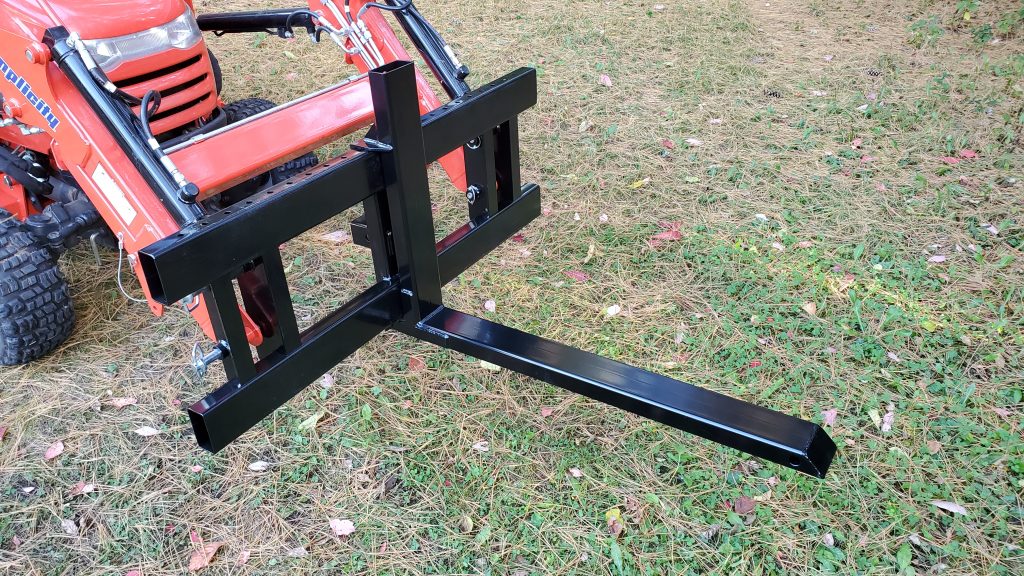 They attach using 3/4″ hitch pins(included) in place of the bolted in pins on the bucket. This allows for tool-less changeover from bucket to forks.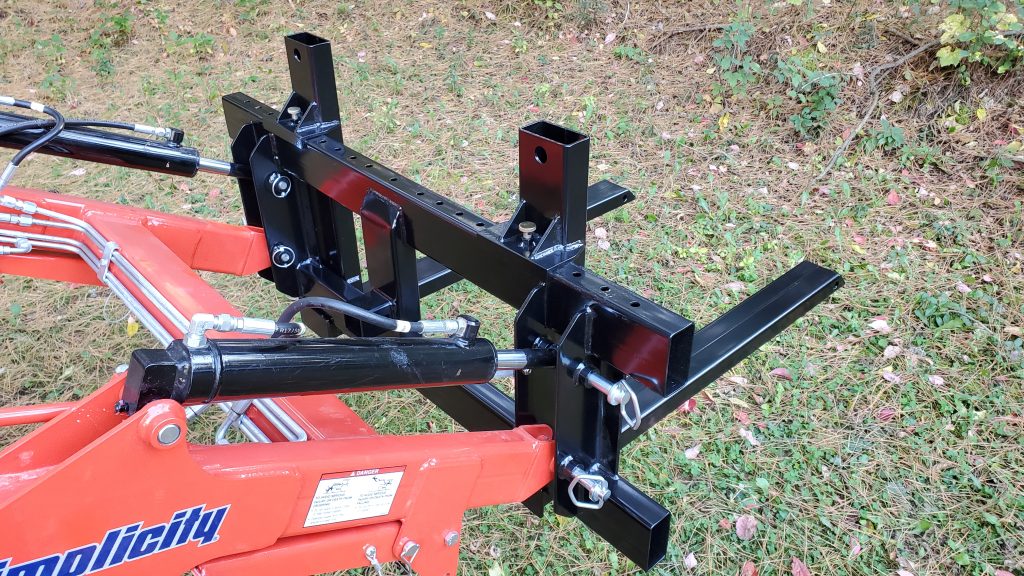 2″ receive built into the base allows you to slide any standard 2″ hitch ball mount into the base for moving small trailers and such with easier visibility.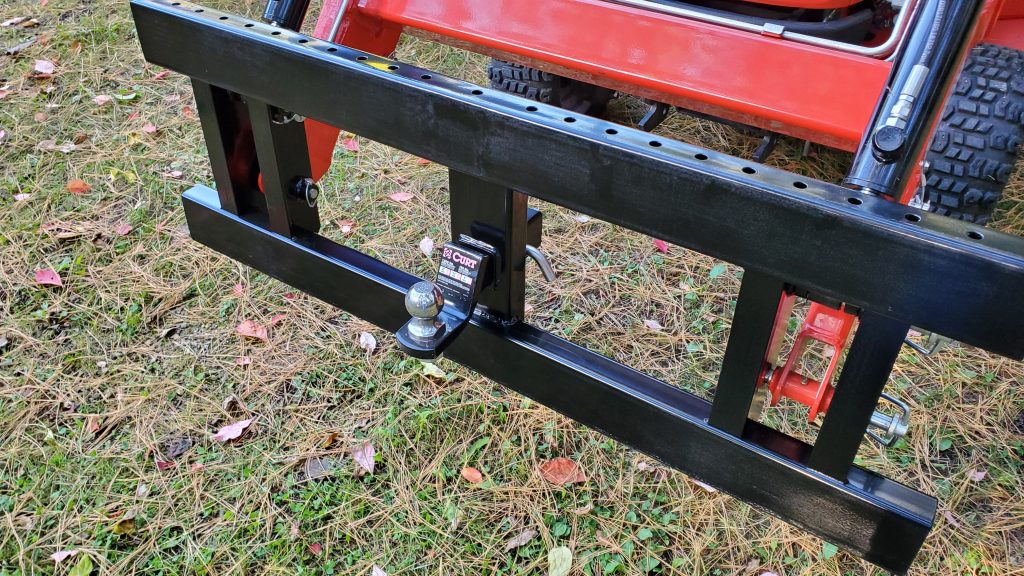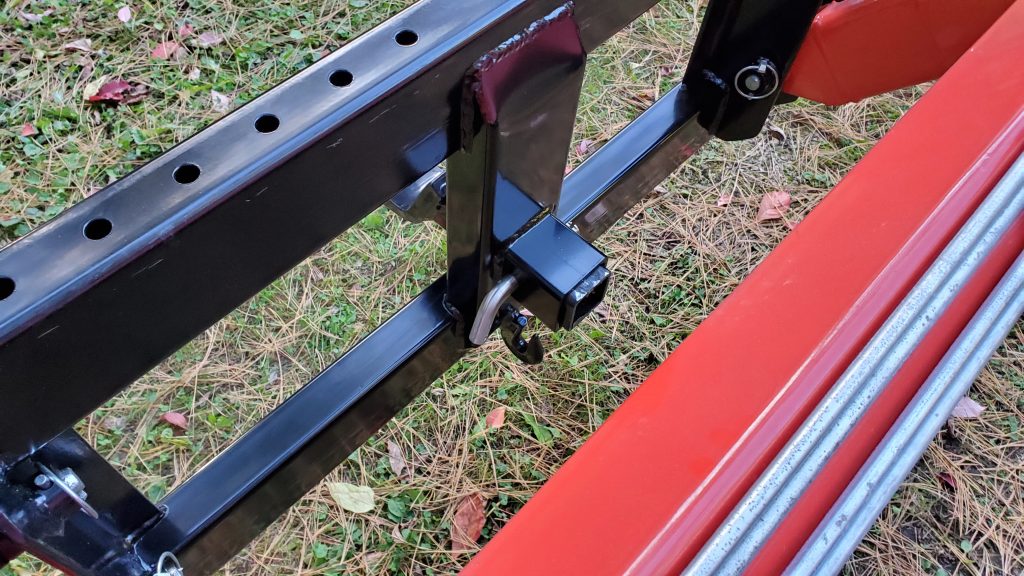 5/16″ log chain hook in back center for pulling or lifting at the base (always stay within tractor capacity limits)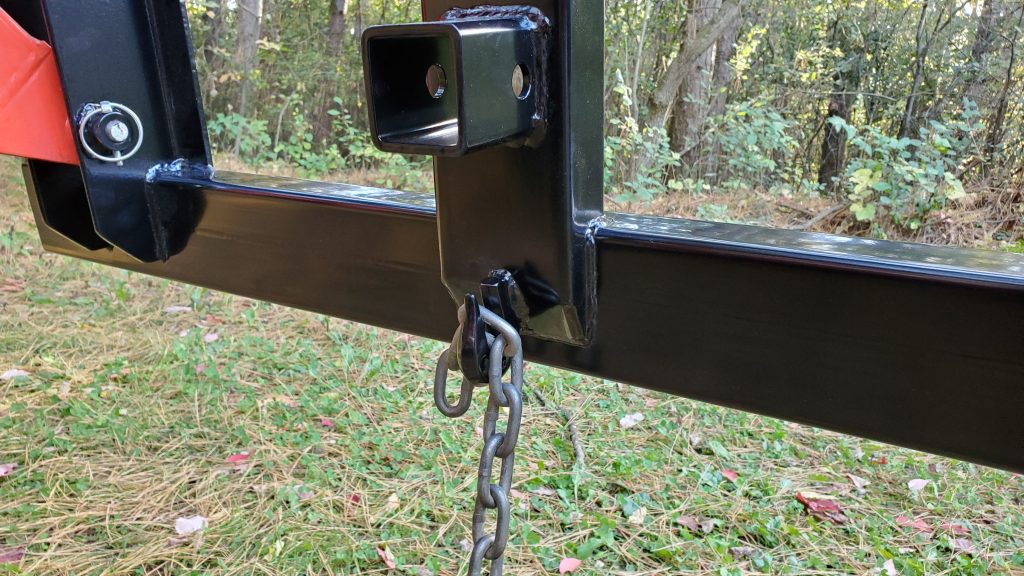 Tubes at end of forks allow a 1/2″ pin(included) for lifting small loads at the end of the forks (always stay within tractor capacity limits)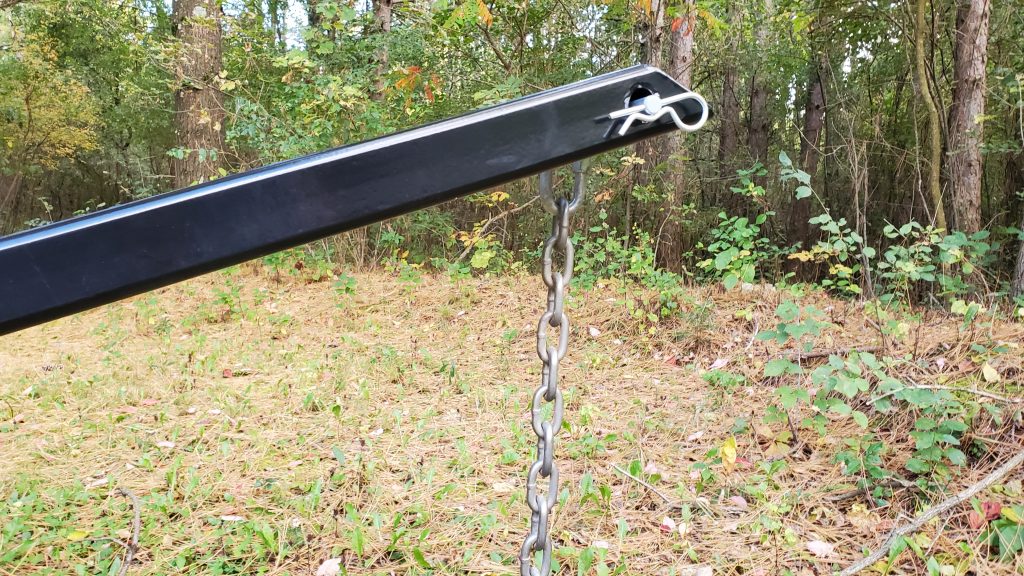 Hollow base allows you to slide full length 2x4s into it to create a temporary gate or fence during farm repairs.
Durable Satin black powder coat finish
Available for both new and original style loader designs
Newer curved boom with narrower loader frame:
Longer pins installed from outside the frame with separate indicator rod mount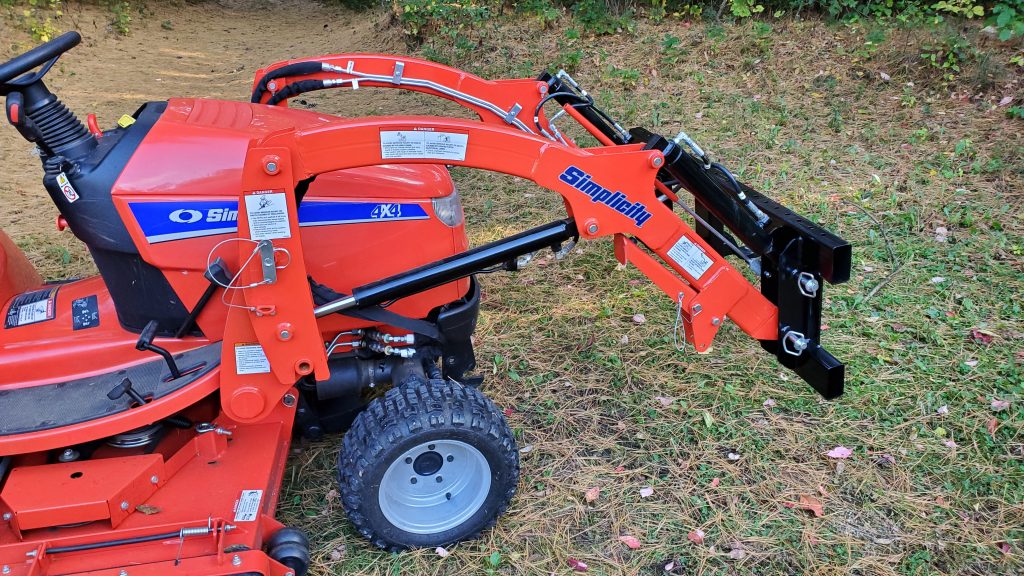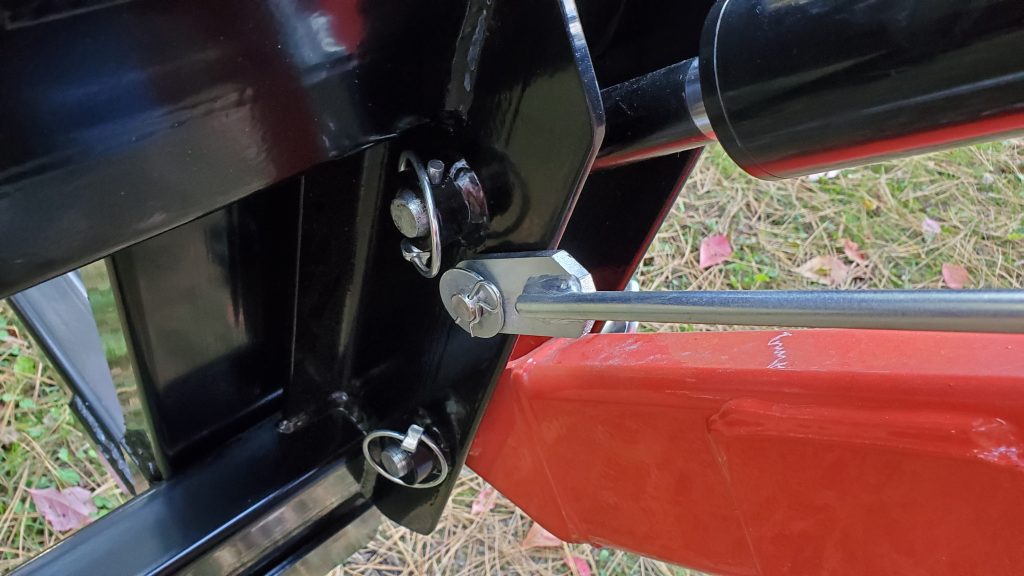 Original angled boom with wider loader frame:
Shorter pins installed from inside the frame with integral indicator rod mount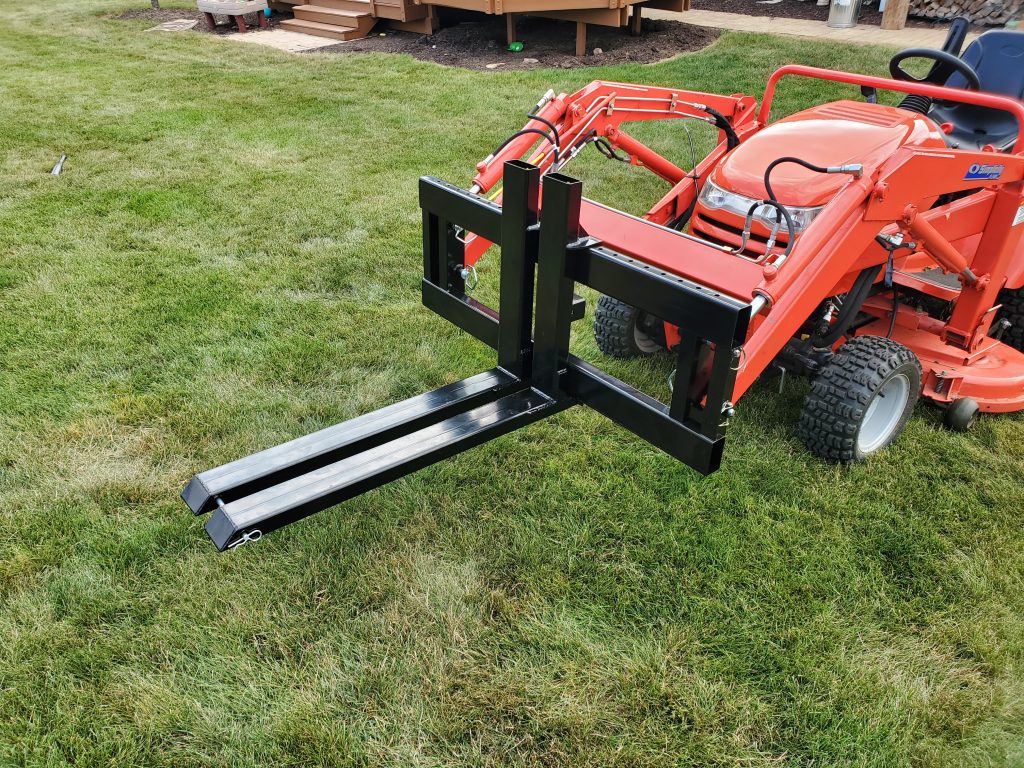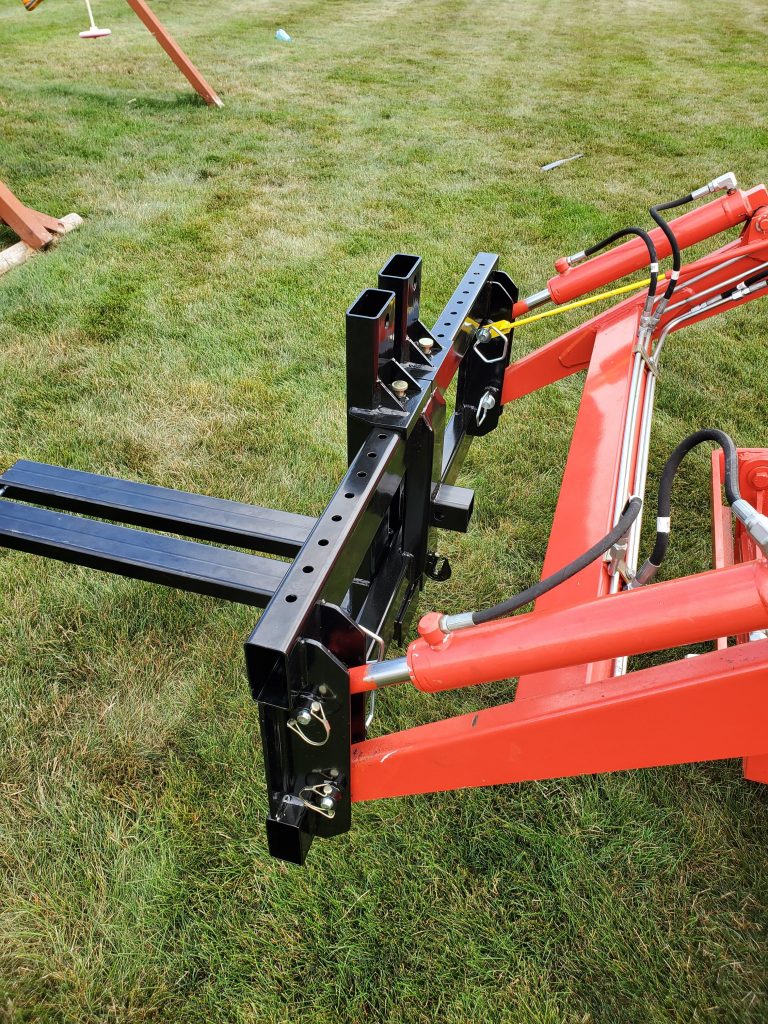 Testimonials:
Mark from MI:
"Just wanted to let you know that the forks that you built are fantastic! They have saved us a lot of back breaking work."
Jeff from IL:
"These are everything I could want in a set of forks with all the features you included, and they are easy to put on and work great."
Specifications:
Base Frame: 49″ Width x 17.5″ height
Fork Tongs: 42″ length x 24″ total height
Cost: $900 a set
I am currently sold out of both the older straight and the newer curved boom. I have started a pre-order list, if you would like to be put on the list please contact me. I will not start to build more until I have a few people on the list, so please don't wait for them without saying anything. I don't charge anything just to be put on the list and everything is kept confidential, nothing is shared.
Contact me for more details or questions. Thank you.
E-mail : support@innovateengineering.pro
Phone : (262)495-8861 M-F 8-5 Central